Building the Studio: Concept to Creation
I've talked before on the website about what led me to open Harness Creation. What happened in my personal life that led to the decision.
That's important, of course, because there'd be no studio without it. But there's a lot that goes in the middle of 'I want to do this' to an opening day or launch – and a lot of highs and lows.
So let's run through it, shall we?
This is in no way business advice, just my retelling of what I went through.
You can also listen to this story in podcast form! Listen on Apple, or on Spotify.
I'll start at the beginning: the idea for the studio wasn't mine.
Well, not entirely. In mid to late 2020, my best friend and I started a podcast. It was his idea, and honestly I hadn't ever actually listened to a podcast. I was working, studying, and had a YouTube channel, and that combined with the fact that I didn't know anything about podcasts meant that my friend, Nic, was really the brains behind that whole operation.
He had a vision, to create a weekly pop culture catch up podcast. He and I have a great relationship, talk nonsense to each other all the time, have opinions we have no right having – and both have a bit of pop culture knowledge. Nic's knowledge is extremely broad – he knows something about everything. I often have not heard or seen or watched something that is considered a culture staple – for example, I didn't watch Star Wars until my last year of High School. But I have deep knowledge of certain things, because of my writing and my degree, and so it seemed like a perfect combination.
All of that is to say: Nic and I knew we wanted our podcast to be good, but I had no idea how to go about that.
Nic is the one that found a small podcast studio here in Brisbane. It was cheap, only $25/hr, cheaper if we booked a package, so we did. Booked a twelve week package, and so in we went, every week for twelve weeks.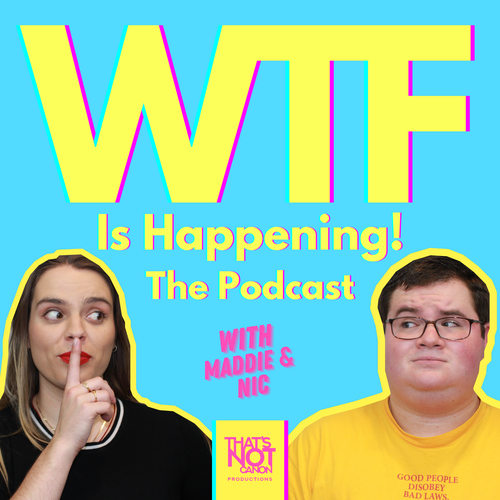 Nic and I immediately knew the studio was a great idea. It was fun, and gave us amazing audio. The equipment was easy to use. We were getting the sound of a professional podcast for less than $25 a week (because we were splitting the costs).
Of course, because that studio existed (and we were both still in uni), we just agreed it was a great idea and that was that.
Until the studio moved. I don't know why the owner made the decision, though I have my suspicions. Our first experience at the new location wasn't . . . great. That wasn't the owners fault, not at all. But the new premises was shared with other tenants, and Nic and I were uncomfortable with recording there.
Truthfully, as soon as our twelve weeks were up, we didn't have the intention of going back. Shortly after, the studio closed down.
We started recording at Nic's house – he bought some USB mics for us – and I graduated uni.
That was about the time I decided the studio really was, in fact an amazing idea. And my thought was: why stop at a podcasting space? I was looking for somewhere to film my YouTube videos – I was so desperate for the space and privacy I even looked at renting office space.
So I decided the studio should cater to other types of content creators. A more in depth explanation of my decision can be found here.
Looking for real estate
Of course, making the decision is one thing. Making it happen is another. I spent quite a while looking at real estate, on and off. The market was – and still is – pretty crazy, so it was hard to find something I could afford, especially with a concept that doesn't really exist. Landlords would have had trouble leasing to me even if there weren't a pandemic.
I remember at this time I was also trying to find a name for the business and oh. my. god. What a nightmare! It sounds like its fun, trying to come up with a name – but trust me, about twelve hours in all you can think is, "I don't even care, I'll take any name I can get."
This issue isn't ideas. It's trying to find something that's not already registered, that has an available domain name, and, ideally, available social media handles.
It is not an easy feat my friends.
Mum came up with Harness Creation about a week in, and when I saw everything was still available I bought the business and domain names pretty much immediately.
Cue me sitting on my ass for another six months.
Finding real estate is hard. Everything was either too expensive, too far out of the inner city, or they didn't want to lease to young woman with a start up with no comparable businesses in the region.
Mum and dad were the ones that stumbled across the space I eventually took. The sign had just gone up that day, and they were on Latrobe Terrace for a coffee. They called me, I came up to have a look, and we all knew it was a perfect space.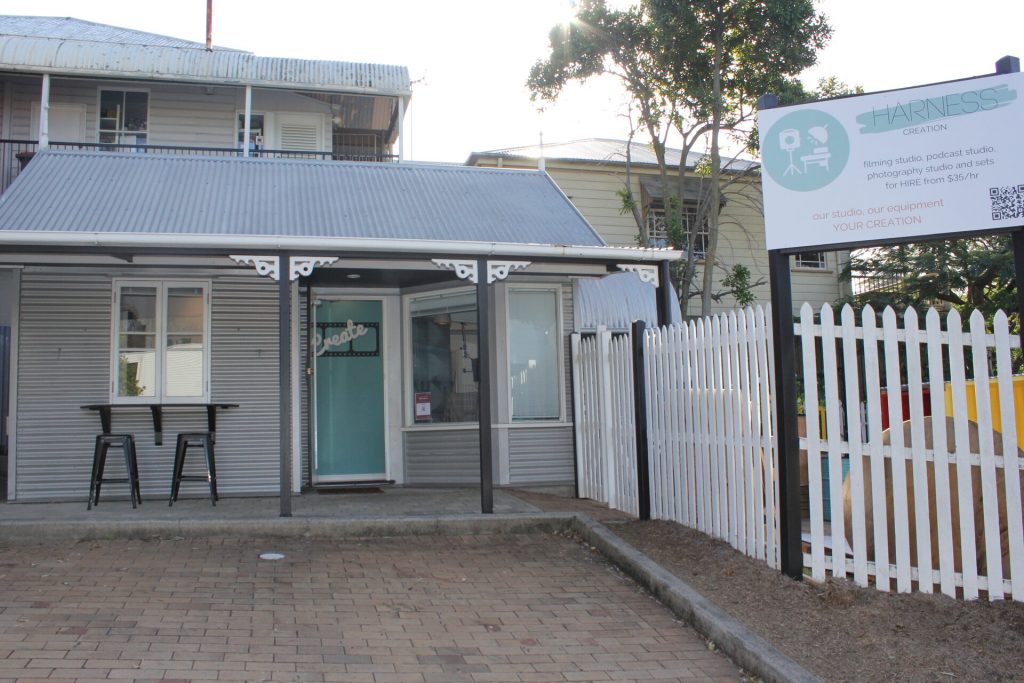 The owner is very kind. She ran her business out of a different unit in the block when she was my age, and she was very willing to give me a chance. So I signed the lease within about a week of seeing the space.
And, wow, does that moment change your life. I very suddenly had a massive commitment – two years. I won't go in to details, but let's just say that getting out of a commercial lease is nothing like getting out of a residential lease. I'm here for the next two years, pretty much unless I go bankrupt.
Eep!
Building
So with that hanging over me, I went into overdrive. I say "I", but it was very much not just me. My dad is a builder, my mum is a business consultant, and my brother is both extremely handy and wasn't working at the time. I had arguably the very best team I could possibly have asked for, who worked and helped me just because they love and support me.
So, we were in building the space for the next six or so weeks. It took way longer than I expected, honestly. The inside of the building is just less than 20 square metres – absolutely tiny. And I needed to fit in two rooms (a podcast studio, and a filming studio), as well as an area where I could work and greet people.
The podcast room had to fit four people, and the filming studio needed to be able to get a full body shot. It's like a giant puzzle, trying to figure out how to get all of that in here. But guess what? We – or, well, mum and dad – did it. The two rooms are oddly shaped, kind of like trapezoids, and the filming room is slightly longer. It just squeezes a full body shot.
A success! Dad built all the internal walls, weird angles and double-sized walls and all. Yeah, double sized. We squeezed 140mm thick pieces of foam inside them. A normal wall is about 80mm thick.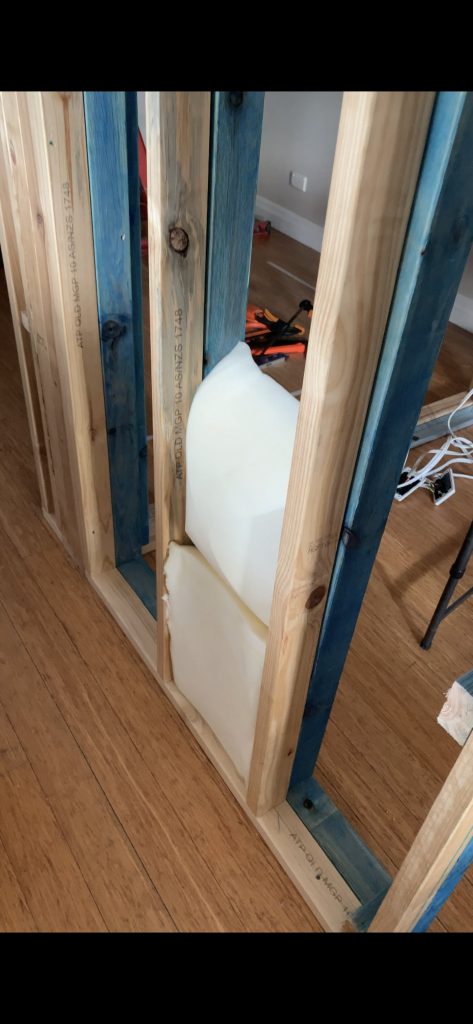 Outside, we gurneyed the pavers, and figured out how to section the courtyard. There was a garden shed and a cubby that were already there, but we had to line the inside of the cubby. We did that with old fence palings, because we could do it free.
We found a great garage sale, where we got this awesome old ladder, amongst other things. It's being used to hang flowers and lights. Something awesome we also came across was free wooden shipping crates. They've been fixed up, waterproofed on a budget (which pretty much just means not waterproofed, but close enough), painted, then propped.
A lot of the ideas for the sets came from Pinterest. I picked the sets based on one thing: it needed to be cute, funky, but most importantly, they needed to be things you can't easily replicate at home. Why would somebody pay for a set they can get for free?
That doesn't necessarily have to mean they can't exist at home. Everyone has a bath, right? But does everyone have a free-standing, clawfoot outdoor bath? With flowers and tea lights as set dressings? Probably not.
Building was fun. Incredibly stressful, too, don't get me wrong. It was long hours, every day of the week (not that that's changed now), and physical labour is always its own type of exhausting. And of course, I can't tell you the amount of times it rained late at night or early in the morning and I had to rush up to get all the wood in courtyard away.
But ultimately, I enjoyed the process.
Website building
While all that was going on, I was also trying to get the website up and running.
Now, I'm not technologically inclined. I'm fairly logical, and I can research pretty well (that degree did come in handy!) so I wouldn't say I'm terrible with it. YouTube is a wonderful thing.
But also . . . I don't actually know what I'm doing, like most other people. So setting up a whole website by myself? Oof. OOF. The learning curve was MASSIVE. I didn't even know where to start.
I'd already bought a domain name, which needs to be hosted (usually where you buy it from). Then you have to choose your website builder, and where you'll host the website (not the same thing as where you host the domain). I bought my domain from VentraIP (as it's servers are located here in Australia), I used WordPress as my builder, and it's hosted on SiteGround.
I make it sound so easy, but those decisions took weeks. And often I didn't even know what was coming next. I didn't know websites needed to be hosted, or that that was different to the where the domain was hosted. So every time I completed a step and went to move on to another, I learnt about a whole new process I needed to go through. It was exhausting.
Then I had to actually get to building. I chose my theme on WordPress – a decision that was based entirely on the fact that it looked cool – then I started to move things around. Pretty quickly I realised I also needed an e-commerce platform, so I just went the easy route and chose WooCommerce because it's WordPress' recommendation, built specifically for WordPress sites.
I integrated it, and then – another roadblock! ANOTHER platform was needed so that I could actually take bookings. I chose Amelia, pretty much entirely because it was a cheap, one-off payment, and had the best reviews for its section of the market.
At this point, it would be fair to assume I was done. But nope. Then I found out that WooCommerce does not actually take payments in Australia. So I needed another plugin so I could actually have a payment portal. I went with Square, because it seemed like the option that was going to make it easiest for me to have an integrated online and in-store system.
Now, I'm making it seem like this process was maybe a day or two, with some roadblocks here or there.
It most certainly was not. This was months of planning and research and work. I started this before I'd signed the lease. But with the lease signed, I was under a lot of pressure to actually get it finished. And without the technical know how, it wasn't easy. There are a lot of moving parts, most of which you have to do manually with WordPress. Managing your DNS (I still don't even really know what that means), integrating portals, installing a bucket load of plugins.
Honestly, I had so much trouble with getting Square to work with my site that I ended up dropping $500AUD on getting a freelancer to fix it for me. She did a wonderful job, and even helped me fix a couple other things. The amount of stress she relieved was worth the money.
But I went this manual route because I didn't want to drop the huge of amount of money it costs to have an easy website builder like SquareSpace. Honestly, with the amount of time, tears, and money I spent on doing it this way, I have to wonder whether I made the right choice.
Finally, we were getting close to finishing building. I was almost done with the website. So then it was marketing time!
Marketing and tiktok
I already had all my handles, and I'd posted one or two things on Instagram – where I was comfortable. At that point, I'd posted a couple TikTok's on my personal account, but nothing fancy. I was still getting used to it.
But we were almost finished in the Podcast Studio. I remember, on this specific day, I wasn't really doing anything. Dad was outside, I was in putting some cushions in the room. I was bored, so I sat down for a few minutes and opened TikTok. I made a little montage of some building videos I'd taken, posted it, and voila. 30 thousand views.
So I posted a painting one. 60 thousand views.
Now, TikTok is the Wild West in my opinion. The algorithm is . . . nebulous. I've had one other video perform very well, much more recently, but then I've had others that I worked on for hours and they've only gotten a couple hundred views.
Still, just those few successful videos were enough to kickstart the business. Obviously there's still a long way to go, because I'm not exactly in the business of regular customers. And a high turnover rate means an extremely large amount of people need to be reached.
It was very encouraging to get such a positive reaction, even if it was still a couple weeks from opening. Of course, having good momentum means nothing if there's nowhere for people to go, but I suppose that's a conversation for another day.
I did a staggered opening, because the Podcast Studio was finished first. I opened the Filming Studio next, then Photography sets last.
The night I got my first booking, I was alone. My family had gone on a little post-building vacation.
I don't really know what it was, but I started crying happy tears which then just morphed into a complete breakdown. Like . . . complete breakdown. The woes of overworking yourself, ladies and gentlemen! Anyway, I managed to pull myself off the ground so I could go home and get some sleep, and that was pretty much the beginning of the emotional rollercoaster that is sales.
A lot happened even between then and the launch. There was a COVID lockdown about two days before the launch. I had a really great speaker for the event, but because I had to postpone it, my speaker couldn't make the new date which was devastating. Then a lot of people couldn't show up for the new date, which was also disappointing.
And marketing and sales doesn't stop. I took a little break from selling the studio, because I was selling tickets to an event I was having, and sales dived. I can't believe how quickly it happened, and how much work it takes to claw it back. Momentum is key, I've recently learned.
THE FUTURE
There are a million little things that happened between when I had the idea for this business, and when I launched. A million things that have happened since then, too.
It will obviously continue to be that way. An opportunity to expand came up only last week, and while I might not have been ready for it, it was too good to pass up. But that's really what I've gotten myself into – not being ready, or thinking I'm not able to do something, and then doing it anyway.
Yeah, it takes a lot of money, time, and support to go from concept to creation. That was very true in my case, because I needed so much capital and building to start.
But that was only the beginning. And who knows what the end will be – but I look forward to finding out.